The newest site we have worked on is Crazifornia.com, which promotes the new book by Laer Pearce, Crazifornia. Laer has done a remarkable job documenting how the Golden State of California has become the dysfunctional Tarnished State of Crazifornia. In Laer's words:
When the agency responsible for California's roads spends $4 million on new cars and trucks, then parks them, unused, for two years, that's Crazifornia.
When cancer warnings are required on buildings because they may contain estrogen or testosterone, that's Crazifornia.
And when a full-frontal governmental assault on jobs and business drives enough people out of a state in ten years to double the population of Oregon, well, that's Crazifornia too.
Pay Crazifornia.com a visit and get yourself a copy. It's entertaining, and educational. After all, what begins in California usually spreads like a communicable disease to the rest of the U.S. so you might need to know the warning signs in order to urge your state governments to inoculate themselves from this madness…
As one can see from the number of versions of The Kitchen Cabinet website presented here … we've been working on it for a good long time. In fact, it's going to go through another transition in the very near future as we gear it up for the 2012 Presidential Election.
Relaunched last spring and transitioned back to the WordPress CMS from the fall of 2010's experiment with the n2 CMS on Microsoft server, once again we are back among the tens of thousands of plugin developers who continually add function and FUN to this powerfull CMS software. Thanks WordPress!
Flight Microwave Corporation designs and manufactures "Passive Microwave RF Components" used in communication satellites along with other antenna products and also performs high-level performance and environmental testing for both in-house and client requirements.
Okie on the Lam is the political blog of an ex-pat Okie "living in the belly of the Liberal Beast" out in good ol' Santa Monica, CA. Okie likes to mix it up with the occasional troll as well as teasing those of liberal-mindedness on his Facebook page. As he would say, "Heh!"
Every once in awhile one just has to do something personal. This is mine: Dad's WWII Letters To Mom website. It most definitely is a work in progress and I have only just begun the job of transcribing the over 400 letters and postcards that he sent to her. A real journey of discovery I'll tell you — Oh, ya betcha!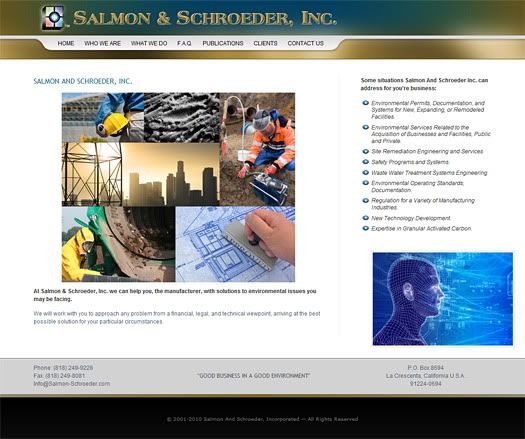 Salmon & Schroeder, Inc. provides environmental services and remediation for a wide range of industries helping them to navigate the regulatory hurdles placed in the way of businesses by the environmental community. S & S has worked with a wide variety of industries, from chemical manufacturing to pharmaceutical manufacturing to tire re-treading to motion picture film processing. Their greatest amount of experience is in the electronics manufacturing industry, but over the years they have been involved with a large number of processes and operations.
Arthur Baker Design converted their original static website to a WordPress-CMS-driven site giving them direct real-time control over their content. Thanks, John, for the opportunity to work with such a great company!
The all new conservative women's organization site, TheKitchenCabinet.US was launched this August 17th. Their campaign is to mobilize 100,000 women to bring 10 friends each to the polls to deliver one-million conservative votes in November.
Unlike previous versions of the Cabinet, this site is built on the N2 CMS system created for the .net aspx file systems running on MicroSoft servers. Arthur Baker Design is providing creative and webmaster support for this site.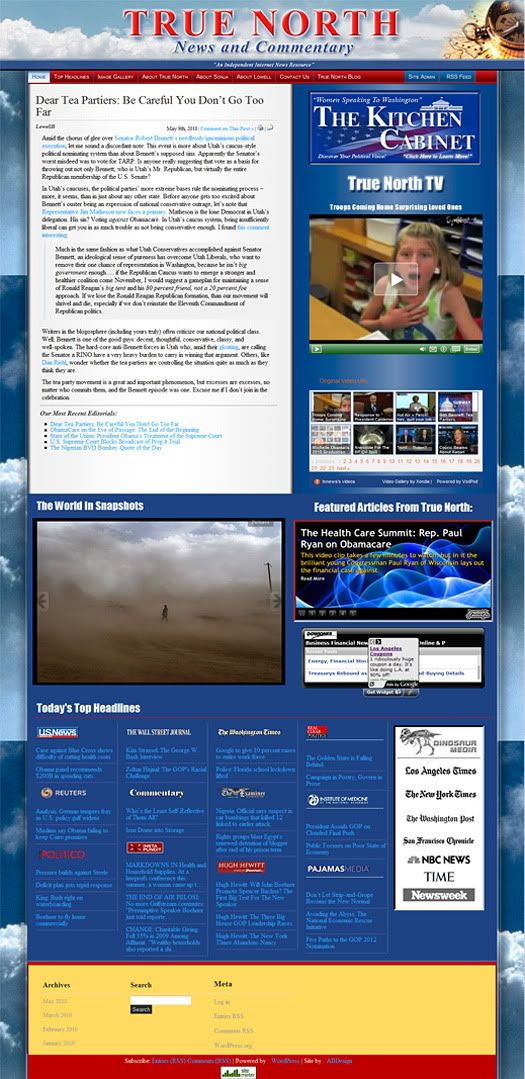 True North News & Commentary is a conservative news and information portal for those of similar persuasions. Visit it often for the commentary of Lowell and Sonja Eddings Brown plus great videos, stills and links to the major conservative sites and blogs.
Arthur Baker Design was privileged to develop this site for the Browns with customized versions of the WordPress VodPod widget, Featurific and incoming RSS feeds, as well as incorporation of the Cincopa image/audio/video service.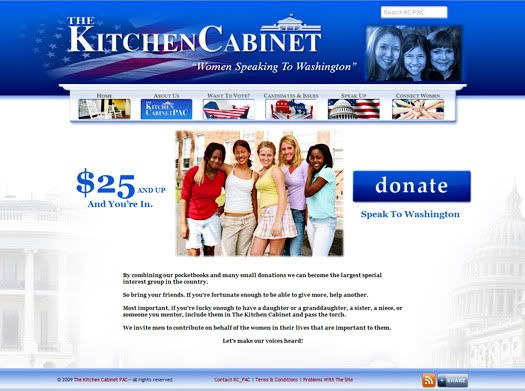 Launching today, November 17th, 2009, The Kitchen Cabinet PAC is the supporting website for the recently created Conservative Womens' Political Action Committee of the same name.
Designed to help give a strong voice to women throughout the US and its territories, commonwealths and military facilities all over the globe, The Kitchen Cabinet PAC features educational articles, contact information for The White House, Senate and House of Representatives and will soon offer a user-supplied nationwide directory of political and service organizations.
Arthur Baker Design worked with the PAC's creator Sonja Eddings Brown to provide a rich user experience via the power of the WordPress engine as the CMS. The donation element of the site is from Blue Swarm.
If you are of like mind, or just want to gain insight into the realm of conservative politics — take a peek.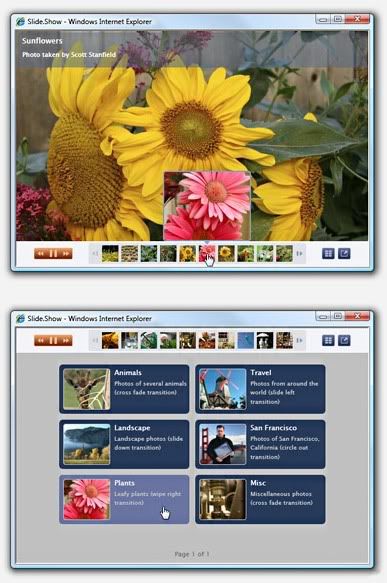 We've been working on a project that includes implementation of Slide.Show from Vertigo (see above images from Vertigo.com) and all was well and copacetic until this AM when I upgraded to FireFox ver. 3. All of a sudden I was being prompted to install Silverlight, and that was where it would stop — with the prompt over and over again, even after closing and restarting the browser.
A brief tour around the forums told me that the SL ver. 1.0 version of the SilverLight.js was the culprit as the way FireFox was handling certain connections changed from ver. 2.x. The SL 2 Beta 1 didn't address all the problems, but it appears that SL 2 Beta 2 is the fix. You can download and install the SL 2 Beta 2 SDK and get a copy of the new SilverLight.js file, or you can get the Silverlight 2 Beta 2 Silverlight.js script here at the Vertigo site. I had gone there to see if they had Slide.Show working for FF3 and sure enough, it was. The one caveat is that the full-screen feature doesn't work once you install the SilverLight 2 plugin, which is necessary to access applications such as the Hard Rock Memorabilia site and NBC Olympics coverage. The developers are promising a fix sometime in the future, so keep an eye on this space for source code updates for Slide.Show.

BTW — check out Slide.Show as it's quite the deal — Open Source, lots of features, and a Slide.Show Pro version when you want to incorporate video and such as well or use with Flash or Lightroom.
The NBC online coverage of the Olympics next month (Aug) will be via a custom SilverLight player that will deliver multiple 'live' event feeds as well as hundreds of available recorded feeds covering that two weeks — along with data overlays, blog overlays and more. They are showing preliminary competitions and events now. Way back in March, Adam Kinney posted some screen shots of the player and made this comment:
17 days of 34 sports which results in 2200 hours of video, shown live and then made available as video on-demand[.]
What can one say? — Wow!