This entry was posted on Jul 13 2008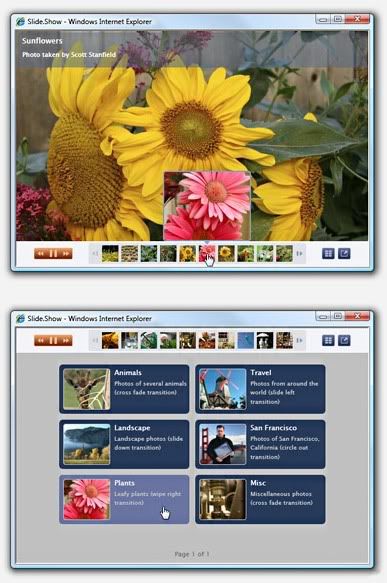 We've been working on a project that includes implementation of Slide.Show from Vertigo (see above images from Vertigo.com) and all was well and copacetic until this AM when I upgraded to FireFox ver. 3. All of a sudden I was being prompted to install Silverlight, and that was where it would stop — with the prompt over and over again, even after closing and restarting the browser.
A brief tour around the forums told me that the SL ver. 1.0 version of the SilverLight.js was the culprit as the way FireFox was handling certain connections changed from ver. 2.x. The SL 2 Beta 1 didn't address all the problems, but it appears that SL 2 Beta 2 is the fix. You can download and install the SL 2 Beta 2 SDK and get a copy of the new SilverLight.js file, or you can get the Silverlight 2 Beta 2 Silverlight.js script here at the Vertigo site. I had gone there to see if they had Slide.Show working for FF3 and sure enough, it was. The one caveat is that the full-screen feature doesn't work once you install the SilverLight 2 plugin, which is necessary to access applications such as the Hard Rock Memorabilia site and NBC Olympics coverage. The developers are promising a fix sometime in the future, so keep an eye on this space for source code updates for Slide.Show.

BTW — check out Slide.Show as it's quite the deal — Open Source, lots of features, and a Slide.Show Pro version when you want to incorporate video and such as well or use with Flash or Lightroom.
The NBC online coverage of the Olympics next month (Aug) will be via a custom SilverLight player that will deliver multiple 'live' event feeds as well as hundreds of available recorded feeds covering that two weeks — along with data overlays, blog overlays and more. They are showing preliminary competitions and events now. Way back in March, Adam Kinney posted some screen shots of the player and made this comment:
17 days of 34 sports which results in 2200 hours of video, shown live and then made available as video on-demand[.]
What can one say? — Wow!