Archive for November, 2009: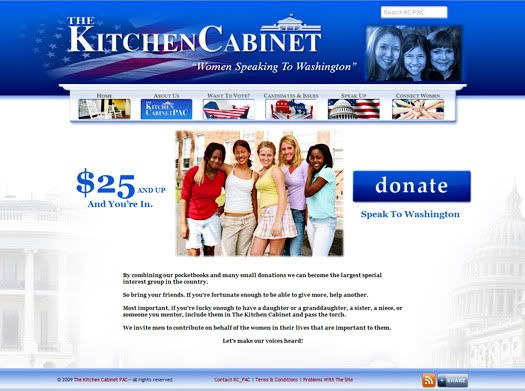 Launching today, November 17th, 2009, The Kitchen Cabinet PAC is the supporting website for the recently created Conservative Womens' Political Action Committee of the same name.
Designed to help give a strong voice to women throughout the US and its territories, commonwealths and military facilities all over the globe, The Kitchen Cabinet PAC features educational articles, contact information for The White House, Senate and House of Representatives and will soon offer a user-supplied nationwide directory of political and service organizations.
Arthur Baker Design worked with the PAC's creator Sonja Eddings Brown to provide a rich user experience via the power of the WordPress engine as the CMS. The donation element of the site is from Blue Swarm.
If you are of like mind, or just want to gain insight into the realm of conservative politics — take a peek.