Archive for the 'eCommerce' Category:
The newest site we have worked on is Crazifornia.com, which promotes the new book by Laer Pearce, Crazifornia. Laer has done a remarkable job documenting how the Golden State of California has become the dysfunctional Tarnished State of Crazifornia. In Laer's words:
When the agency responsible for California's roads spends $4 million on new cars and trucks, then parks them, unused, for two years, that's Crazifornia.
When cancer warnings are required on buildings because they may contain estrogen or testosterone, that's Crazifornia.
And when a full-frontal governmental assault on jobs and business drives enough people out of a state in ten years to double the population of Oregon, well, that's Crazifornia too.
Pay Crazifornia.com a visit and get yourself a copy. It's entertaining, and educational. After all, what begins in California usually spreads like a communicable disease to the rest of the U.S. so you might need to know the warning signs in order to urge your state governments to inoculate themselves from this madness…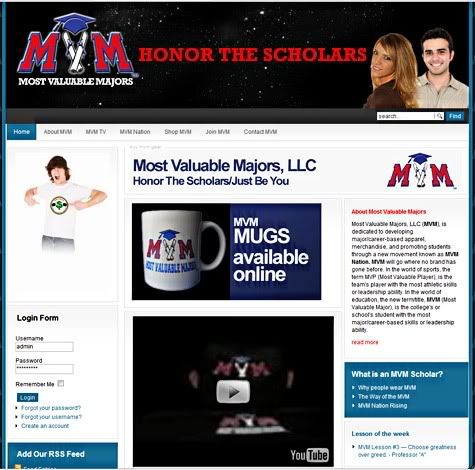 ABDesign is proud to have helped a young Los Angeles entrepreneur get his Joomla 1.5x powered website MostValuableMajors.com recreated, back up and running complete with an OSCommerse powered online store. Joomla is the cutting edge content management system powering multitudes of websites around the world giving the site owner/manager unparalleled ease of content additions and modifications.
Join MVM as they become the ESPN of Academia, focusing on those who are passionate in their pursuit of knowledge.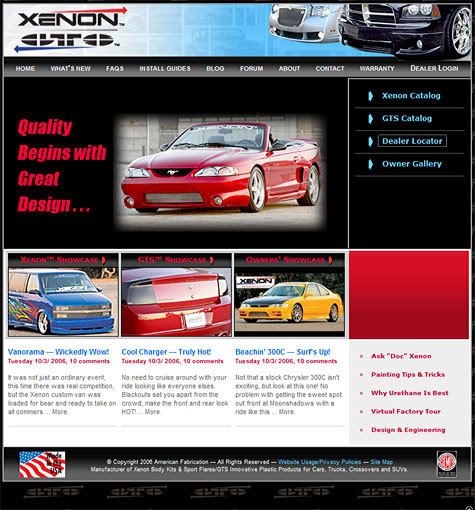 ABDesign has just launched the all new TeamXenon website for American Best Car Parts Inc. Just in time for the 2006 SEMA show, this site features the urethane body kits and acrylic lighting accessories for their Xenon and GT Styling product lines. Incorporated into the site is a WordPress powered blog, which ABCP will use to keep their dealers and customers upsated on all their newest product applications.
Future plans include a forum for end users to showcase their customized rides, and a fully interactive online catalog of their SKUs for their authorized dealers convenience. A ZIP-code based Dealer Locator lets anyone find the nearest stocking dealer for either or both product lines.
Thanks Team Xenon for having ABDesign be the point guys on this project!